"Entrepreneurship Is Challenging And Tough" Michelle Ntalami's Advice To Upcoming Entrepreneurs
4 min read
Not everything deserves to be put out for the world see, this is according to award-winning entrepreneur Michelle Ntalami.
In a candid Instagram post on Thursday August 6, the drop-dead beauty behind Marini Naturals called for introspection and a deliberate but honest wing at the motions of life.
"Far too many of us are out here living a lie. Outwardly a very different person from who they really are on the inside. I'm all for putting your best foot forward in everything. In that, you don't have to bare to the world your problems, habits or choices. But you certainly don't have to fake your successes or your life either," posted Ntalami.
Ntalami stated that while the story of her glam life and that of others in the limelight is adored and wished for by the younger generation, there is a portion of it that is often not told. Urging those who yearn to have a piece of their lifestyle, she highlighted that heir are imperfections and episodes of struggle that call for a genuine understanding of who you are and what those around you stand for. 
"Life becomes even more beautiful because of its struggles, not because of perfections. You start to attract more genuine people into your life when you yourself are genuine, raw and real. It's saddening to see our younger generation watch us in awe, embellishing everything from our lifestyles to our relationships, to our looks to our bank accounts. They go home and think to themselves they wanna be "perfect" just like us, but they don't know the real story and struggle. Then we see them going wayward in life; depression, mental health issues, selling their souls and bodies and even committing suicide," wrote Ntalami
According to Ntalami, the hunt for validation is vain and self-defeating. She underscored how life is messy and reiterated that the pivot point for every successful person is truth. Truth to self. "In the story of our lives, we are omitting the part that matters the most; the truth. Life is messy. And it's how we overcome the messy parts that make the story beautiful. Chasing validation and perfection on the Gram is an insatiable thirst that will only leave you feeling empty, worthless and soulless. Haven't we learnt by now, you can never please everybody?" she posed.
Explaining how she made it, the Marini Naturals CEO averred that vulnerability to self is key.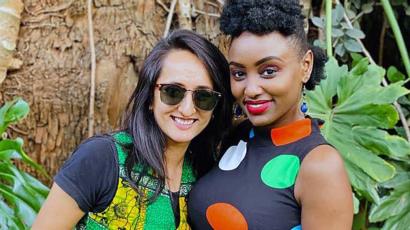 "This is how I did it; forget the big dreams, paper chase, building empires, perfect looks and lavish lifestyles for now; these things will always be there. Do the inner work first. Block out the noise, come home to your soul and meet yourself. Be the CEO of your own mind, body and heart. No one else deserves to control these things for you. Be vulnerable to yourself, and meet the parts of you that you feel wouldn't be "validated" by the world. Believe it or not, these will be your biggest superpowers! Once you do this, only then can everything you do and touch in this life be blessed by your own divinity," shared the brand strategist.
"The only two people you ever need to impress in this world is you and your God. And remember, validation is for parking tickets."
The BLAZE BYOB mentor two years ago said that today's youth are lucky as they are in a better position to learn from their peers who are trailblazing in various facets of the economy.
"Guys don't know how lucky they are to sit in their living room and watch it through the eyes of their fellow youth. If I had that, I would be a better-equipped entrepreneur than I am. I hate to break it down to you guys but entrepreneurship is madness. Say goodbye to your social life. There's no shortcut, entrepreneurship is challenging and tough. It requires GRIT. I have had some crazy days and nights where I wanted to give up. Despite all that, it is extremely rewarding and at the end of the day, it's all worth it."
She went on to add that there's "beauty and dignity" in the discovery of talent and effort to grow.
"I never want to judge how someone decides to make their money or live their life however, each one of us was given a talent by God. Each one of us is equipped with something that will help us change our lives. As a woman ask yourself if it is really worth it to not discover your hidden talent that will propel you and help you succeed on your own. There's beauty and dignity in a woman using her own talent and effort to grow yourself. If you choose the best way for you is sponsors, know that even laziness is condemned in the Bible. Get your money whichever way you want to but try being as ethical as possible. Be a woman with integrity," added Ntalami.
Email your news TIPS to info@254news.co.ke to get your article published.